Creating A Brand Strategy In A Social World

Setting Goals
Developing an effective brand strategy requires careful thought and reflection about your company and your goals. For example, does your company aspire to join the Fortune 500? Or would you prefer to remain a small to medium-sized business that maintains close contact with your customers and clients?

Brand Strategy
If one of your clients or customers were referring your company to a potential prospect, what would they say? A comprehensive brand strategy helps you to think through all of these questions. Once you have a clear sense of your company's brand and goals, it is time to research what people are actually saying about your company.

X-Ray Vision
Competitor analysis is an essential component of corporate strategy. Competitive intelligence provides both an offensive and defensive strategic context to identify opportunities and threats. Contact us for a high-level competitive intelligence report today.

We are a Michigan marketing company. We will help your business succeed.

Customer Awareness
Findability defines the ease with which content contained on a website can be found, both from outside the website (using search engines or social media) and by users already on the website. Both are critical to conversion. Convert your website into a revenue generator.

Websites That Work
Mobile-first websites? 3rd party online stores … You have 30 seconds to grab your customer's attention online. Your website needs to get down to business. Successful businesses know that an outdated website can be worse than no website at all.

Integrated marketing
Beyond Big Marketing has over 20 years of experience in online and offline advertising.
We're experts in integrated marketing campaigns. We will even answer your first marketing question for FREE.
WHY CHOOSE A VIRTUAL AGENCY?
Your Advantage: 
Intelligent advice.
We are a focused team, targeted at your business goals and creating measurable end results for our clients.
Our Advantage: Strategic thinking and creative ideation. Our diverse backgrounds and outside perspectives will provide insights to elevate your business and motivate your team.
Your Advantage: Cost.
Agencies have high overhead and Jr. staff usually goes to smaller accounts.
With us, you can be assured that you get proven talent focused on your business.
Our responsive sites look beautiful on mobile devices and grab Google's attention
Beyond Big Marketing builds websites with Google in mind. Mobile-first indexing means Google is now using the mobile version of the content for indexing and ranking. This is a change from primarily using the desktop version of a page's content when evaluating the relevance of a page to a user's search request.
WE ARE A 21ST CENTURY AGENCY.
YOU DO NOT PAY FOR OUR FANCY OFFICE RENT.
This allows us to assemble a team of experts with related category experience dedicated to your project from beginning to end.
The key members who will undertake the project each have over 25 years of senior-level experience in advertising, marketing, and management. They have each been recognized for their expertise through industry awards and the trust of a large, diverse client base.
Our strategic planning and management experience will allow us to develop highly effective strategies and a marketing plan that will accomplish the goals and objectives established by our clients
We work Fortune 100 to Fortune 5000 corporations Our goal is to ensure that the marketing strategies we develop together makes you a better resource for your customers. We are ready to take your business to the next level, one happy customer at a time.
Principal for Beyond Big Marketing, Mark has significant accomplishments in both creative and account services, in both traditional and new media, and in B2C and B2B. He has been a creative director in big shops and a web strategist for big clients. He is strong on the concept, strong on e-commerce experience, and strong on the commitment to client service.
Rob With over 20 years of search optimization Rob knows what it takes to make your site noticed by your best prospects. His clients include local business to fortune 500 networks. His experience in understanding and elevating search engine rankings has earned him speaking invitations to various industry-specific conferences throughout the years.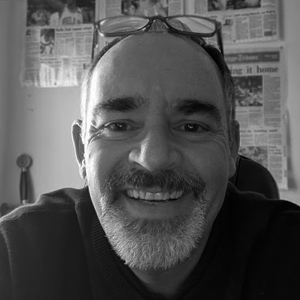 Derek has been essential to Beyond Big Marketing for a long time. His experience in client services has been invaluable in advanced education prospect acquisition and retention. Skilled in social media marketing and driving SEO campaigns for clients like Nordic Trac and Red Envelope, he's an expert at customer acquisition and engaging customers online.